Earlier this month we ventured to Boston to attend the hottest marketing conference of the year – HubSpot's INBOUND. You're probably like, gah, conferences are rough I feel for you. NOT AT ALL. This incredible event was attended by 20K+ people and had guest speakers such as Katie Couric, Jennifer Garner, Chip & Joanna Gaines and even a comedy show from Chelsea Handler. We went to a ton of breakout sessions and learned SO MUCH to bring home and apply to our strategies with our clients. (Check out some fun pix below).
It was so much fun, and we seriously cannot wait for next year. Our brains were sponges; we took all of the notes in the world with every intention to come home and a) apply our new learnings to ours and our clients' marketing strategies and b) educate you non-believers / not-yet-ready-to-pull-the-triggerers / brands who just want to be ON-IT with generating sales. With that being said, we threw together a little piece on one of the sessions we felt most valuable – all about generating revenue with content marketing.
Grab a snack because this is going to be a long one. This might even be one of those that you should print and use a highlighter and comment all over, maybe forward to your team and bring up in your next marketing meetings. We're D U M P I N G this info on you in hopes of helping you clarify your content marketing efforts. Let's get started!
Going into INBOUND, we already knew one thing – that content is king.
We bet you probably already knew that, too. (Content = what you put out into the digital-verse to tell a story and convert your audience into consumers). It's kind of a "duh" statement in the marketing industry, but are you using that to make money the right way? Is it generating the revenue you want it to or are you just having content for content's sake? We're breaking it down for you in this blog, plus some insider tips we took with us from INBOUND.
First, do you have a marketing strategy?
9 people we ask out of 10 say NO. YIKES!!!!!!!!! Content is king, but strategy is key. Here are some key pointers to be thinking about that might help you pull that strategy into a measurable place:
Do you have a profile of your target audience persona? In English: do you know the age range, lifestyle, purchasing behaviors, attributes and goals of your consumer? (Note: you can have more than one persona)

Have you set goals for how much revenue you want to to generate and how you're going to accomplish establishing good leads?

What state is your editorial calendar in right now? Does it have specific brand guidelines that you can work within but also stay true to your brand? These include your brand voice, professionalism, images, text, et

c.

To make sure everyone is doing their job, what roles and responsibilities have you outlined? Do those people know their roles and responsibilities?

What key things have you noticed indicate good or bad performance on your end?
Once you've worked through all of those items, you can then start thinking about typ
es of content you'd like to cater to your consumer in the tone of voice that speaks to them. SO LET'S. TALK. CONTENT.
Content is great, unless it's working against you. (Which it 100% can be if you aren't careful). Below are vital revenue generators in terms of content, but it's crucial to use up to 5 at a time in order to sell your product or service the best.
The reason for this: every consumer will go through a journey to land on choosing you as a service provider / fill a retail need. These types of content are including but not limited to:
Guest-contributed articles by subject matter experts

Press mentions, reviews, or any positive comments about your service or product

On-site content: this is anything that came from your social or website that will prompt consumers to come back and revisit (blogs, infographics, videos from your website, etc)

Gated content: what branded content exists on your website that can be downloaded? That's what gated content is. Think: checklists, editable spreadsheets, how-tos, quizzes, etc.

Email Marketing: are you utilizing a drip campaign or an automated campaign? I.e. making your life and sales process a heck of a lot simpler (hint: you can use your gated content to grow your email marketing efforts)

Webinars or co branded webinars to reach new audiences, encourage current leads to attend webinar.
FYI – most consumers will walk through 4 to 5 pieces of content over a period of time before making their purchasing decision. That could look like:
Seeing your social post for a new blog

Clicking that social post and reading your blog

But then, they read two more blogs

Then, from a strong CTA (call-to-action) at the bottom of your blog, they sign up for your email list and get a 'freebie' download

They're then entered into an email funnel and after a few emails that speak right into their emotions, they purchase your product / reach out to inquire about your service.
Once you've decided from which of these you can best benefit, the best is to use a tried and true process. Follow along, say it out-loud, but remember this process:
Ideation: This is your brainstorm time. Say the 'silly' idea or thought. Have a whole session dedicated to silly ideas or thoughts. It'll accomplish 1 of 2 things: it'll be like a cleanse, and once all the bad ideas are gone, you'll have no choice but to think of good ones, OR something really good will come out in a silly idea session. It's literally foolproof.

Knowledge: You need to know your content like the back of your hand, really. So interview interview interview! Ask the content author any questions you need answers for, or have them write answers from written questions.

Creation: Pretty self explanatory – just do it! Create the content that you're going to put out into that digital-verse.

Editing: It's important to have someone who can edit and refine the content you're publishing, especially as sort of a last defense before it hits the public eye. This assures no grammar mistakes or errors, matches the tone of voice correctly or the feed, etc. Always make sure it's someone who isn't you/didn't create the content. You cannot edit your own work, because 9/10 you'll miss something.

Distributing: Use that content! This is your bread and butter, so use it whenever and wherever you can. Publish it to social channels, use it in sales meetings, include it on your email marketing list – wherever it is useful, use it.

Analyzing results: Watch your metrics, see what sort of content is performing and what you need to cut. At LBMG, we like to do this on a monthly basis for ourselves, and on a weekly basis for most of our clients.
As always, keep in mind what channel you're creating content for. Instagram differs from Facebook differs from LinkedIn, and so do the audiences on each. Create content that will continue to thrive on the platform and remain relevant.
Now, once you've got that content, the next step is to give it to people within your company who can utilize it – one of them being your Sales Department Rep (SDR) Good content gives them a leg up on their job, as well as yours. It's especially vital because it can help nurture a lead and potentially close it.
From Kelsey Raymond, co-founder and CEO of Influence and Co, we learned about this process. We found their SDR process very valuable and wanted to share it with you guys. It goes as follows:
When a lead fills out any sort of LEAD FORM or INQUIRY, have your SDR follow up (cut the automated email). This way, they can determine how far along in the buying process the lead is in, and can then send them content that is applicable to their situation instead of a boring follow up that looks like "Hey, just checking in…" By doing this, you tell your potential they aren't just another client, but you're genuinely interested in seeing them succeed. 
Content is the driving force in this marketing biz we all decided to get into, and the creation of it is something we're passionate about.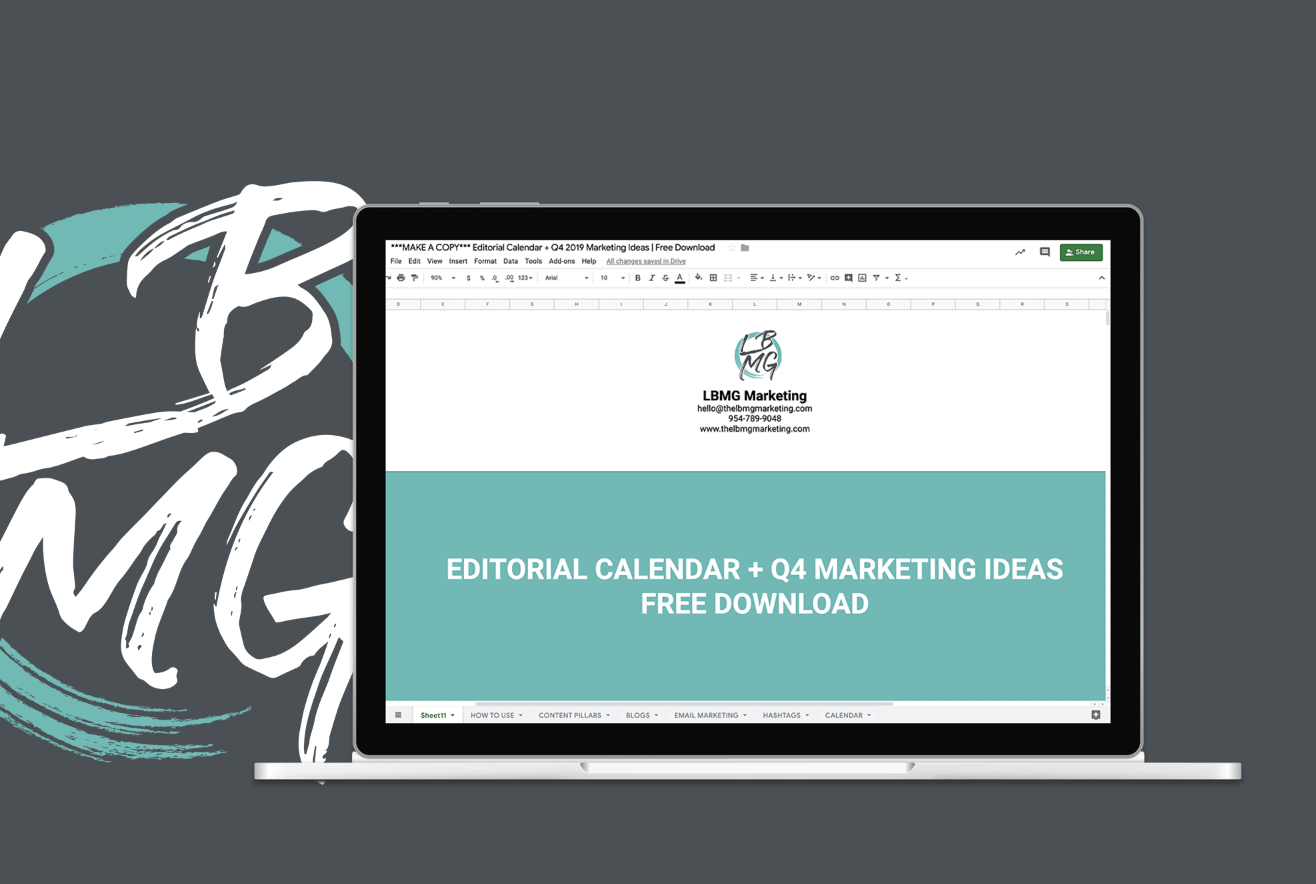 In an effort to help you streamline all of the tips and tricks we taught you above, we've created this super-cool, easily editable Marketing Calendar Template. What's so special about this editorial calendar is that it's a simplified version for what we use for all of our clients and it includes nuggets of information to guide you to a knockout marketing strategy that will help keep you and your team ACCOUNTABLE so you can bring in the business you knowingly deserve (how's that for a run-on sentence). Y'all – also keep in mind that the holidays are coming and if now is not the time to start getting ahead of your editorial content – when is?
Now get out there, grab your team, and start generated that good-good content. We look forward to seeing it!