How Millennials are Affecting Philanthropic Efforts in 2019
With giving season upon us, it's time we evaluate who exactly is doing the giving. Does it come as a shock to anyone that millennials are the forefront of this crowd? Millennials are the fastest growing age group in the US, projected to be the biggest American workforce by the year 2020, with spending power to match that. Since they're reaching their prime earning stages of life right now, it's only reasonable that they're accountable for $200 billion in direct spending power in the US. Oh, not to mention they're probably about to inherit a total of $41 trillion from older generations. That's trillion with a capital T. With this in mind, let's explore why this generation is the best to market to for fundraising and philanthropy causes. 
Undoubtedly one of the largest reasons Millennials (and likewise, Gen Z) are so different is their relationship to technology and the internet. Due to their adolescence evolving primarily around the explosion and overtake of technology, they're more connected and more aware. Because of this, they know about social and political events, and say they have more fear about their futures than past generations have had.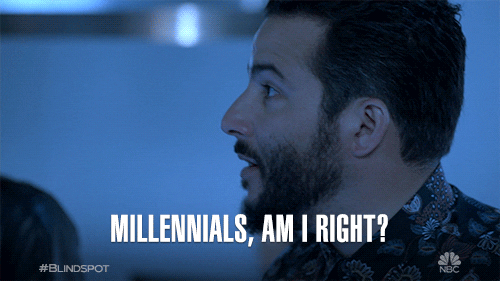 Why is this important? 
Millennials are more likely to donate or participate in charity fundraisers that are going to enact some change. They also tend to be more decisive about who they donate to because they'll want to ensure their money is being used for change. Social media has also led to friends being more interested in friends' social philanthropic content.
Millennials also don't want to just donate and leave it at that. The world has uncovered so many scams and frauds, they want security in knowing their money is going towards what they expected. They require proof of some kind. This generation heavily values authenticity within brands, whether it be social media proof (pictures), seals, constant email updates on where their money is going, etc.
*LBMG did this when we helped raise canned good donations for Women In Distress for the Thanksgiving holiday. And in turn posted a picture with all the food at the donation center.*
When outlining the ideal millennial organization for you, it would need to have a few key characteristics to it. We'll list them out for you:
 It would need to offer up some validation proving the money goes to the cause it's saying it's for.

 It would need to provide some opportunity for the giver to get involved in some way.

42% of millennials

who give say that they would love to be involved in helping a company develop future products or services.

 It would need a website because that's the

first

place they go to learn more about a non profit

(we wrote a

blog

about this!)

The second place? Social media-

51%

of millennials said they connect to the social media after the website. 

It needs to allow for/encourage peer fundraising. As mentioned above, millennials are more interested in donating to organizations their peers are passionate about. Offering opportunities for your audience to post, share and even join with others on the fundraising activities is essential. Take advantage of this connectedness! But don't exploit it. Don't

just

ask for donations. Ask for

involvement

– setting up a fundraising event, working at one, fieldwork, etc. This generation loves to get involved. 
Keep these characteristics in mind when trying to reach millennials. Communicate with them urgency- because why should they get involved in your cause? There are many other organizations with causes just as urgent. Relevancy is key here. Tell them a story, not just an ad for money- it doesn't have to be a Sara McLaughlin In-The-Arms-of-An-Angel-ASPCA-make-you-want-to-cry for-the-puppies story. But it has to make them feel something. 
Remember, millennials aren't stupid. They can see through clutter and differentiate between organizations that are real, and those that just want their money. They want to see change in the world. Especially when the internet is constantly communicating all these bad things that are happening all around them. And let's be honest, the media is not exactly reporting good news either.
Have an idea for a butt-kicking fundraising event, but don't know how to market it? Guess what- we can do that for you! We LOVE getting involved in event planning and pr for non-profits or charity events. If it's important to you, it's important to us- shoot us an email, and we can start making it important to others too.